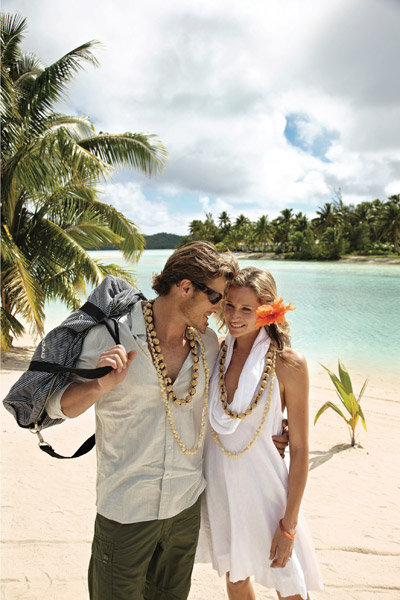 In the days of yore the traditional American honeymoon meant about a week spent on a mountain or a beach vacation secreted away in the boom boom room. More globally, it was a time for the couple to set up their home and to get to know each other. In Jane Austen's era, well-to-do newlyweds used that time to travel to see relatives who were unable to attend the ceremony. These days, the honeymoon is still a time to connect with each other — but in a variety of ways — and it (as with all wedding-related travel) has morphed to reflect a language all its own. Here we dissect the latest terms in the nuptial travel realm.
Mini-Moon
This is a great solution for those who don't have enough vacation days, are hosting a destination wedding or are choosing to wed somewhere that isn't home and still want a romantic getaway after the nuptial celebration. This quickie vacation is two to three nights and doesn't preclude you from taking a longer, more formal honeymoon later.
Familymoon
One or both of you have kids, and your parents are happy to babysit. A time to bond together as a new family (like Reese Witherspoon and Jim Toth's familymoon), this multigenerational trip is usually built around a destination wedding.
Babymoon
This vacation is the last hurrah before having a child. It celebrates your union and the upcoming expansion of family. It's usually three to four days and totally laid-back.
Jack 'n Jill
Not exactly romantic, but definitely fun, the concepts of both the destination bachelor and bachelorette party get in sync here. Usually one day of the weekend jaunt is gender-specific (think: golf, steaks, ribs and blackjack).
Girls' Weekend
This is your moment to just breathe. Unlike a bawdier bachelorette weekend, the girls' weekend is more about prepping for your upcoming wedding in a mind-body-spirit way than a scavenger hunt/shots/bikinis trip. The focus here is getting the bride in shape holistically for the wedding — eating well, exercising and spa-ing. The girls' wellness weekend concept isn't limited to your lady pals, and often includes moms, new MILs and a favorite aunt.
Inspection Trip
As the desire for destination weddings continues to rise, so does the need for a pre-wedding hotel once-over. Various resorts offer incentive weekend visits for couples to test-drive and ultimately choose to wed on property.
Engagement Getaway
This is for those of you who are dropping hints to the BF — there are loads of resorts around the world that have romance concierges. And while these specialized hotel employees can assist in putting together the most romantic itinerary packed with honeymoon-perfect activities, they can also help your guy create a fairytale proposal. Some hotels and resorts even have proposal packages.
Elopement Package
The largest uptick in the romance-travel sector is the planned elopment. Just-the-two-of-us packages include all the traditional bells and whistles — intimate ceremony, celebratory meal, some flowers and photos — without the hassle of an engorged guest list.
Did you know? The concept of a honeymoon — the first month of marriage when the union is sweetest — appeared in Western culture in the 16th century.
Photo Credit: Cook Islands Tourism Corporation